As the 2018-2019 College Football season came to an end, Jake Fromm, the University of Georgia stand out quarterback was considered by most to be a top draft choice whenever his time to take the next step into the NFL draft arrived.
Recording 30 passing-touchdowns and just 6 interceptions on 67.3% completions, Fromm lead Georgia to a 13-2 record, falling in the National Championship to Alabama, 26-23.
However, after a lackluster 2019 season where Fromm saw his numbers slightly dip in comparison from his previous 2 seasons, his name and position on the draft boards have dropped tremendously. Why?
I can say being not only a Georgia boy myself, but actually from Jake Fromm's home town of Warner Robins Ga, I've seen him win, Literally at everything. Jake is an extremely gifted athlete. He helped lead his little league team to The World Series in 2011 where he hit 3 homers with 8 RBI's.
At Quarterback, Fromm lead his high school, the Houston County Bears to their first win in school history against my own Northside Eagles, the cross town rival who which at the time had a record of 0-17. That moment, while bitter sweet for me, is when I knew Jake Fromm would accomplish greatness wherever he landed.
After changing his commitment from the University of Alabama, Fromm and his family decided he may have a better opportunity at UGA where he eventually started for the next 3 seasons under Head Coach and former Alabama assistant Kirby Smart. Smart himself a UGA alum and former defensive back from the 95'-98' seasons.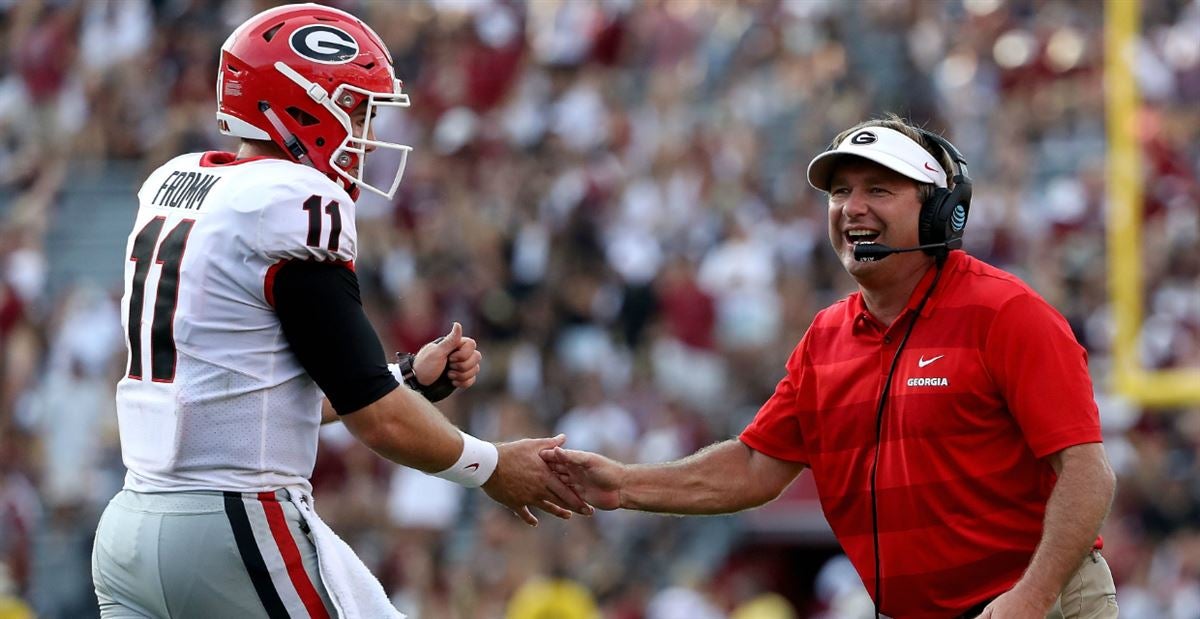 As a true freshman, Fromm stepped in when Jacob Eason, the starter entering the 2017 season for UGA injured his knee on a late hit out of bounds. Jacob Eason never saw the starting job again and eventually transferred to the University of Washington.
Eason also declared for the 2020 draft. Surprisingly, many have him projected to go ahead of Fromm. In Fromm's taking over for Eason, the Bulldogs lost a heart breaker in overtime of the 2018 National Championship game when Tua Tagovailoa connected with a streaking DeVonta Smith for a 41-yard touchdown in overtime.
Ironically, Jake Fromm in a way is in Tua Tagovailoa's rear view mirror again as the Alabama quarterback is projected to go in the top 5 of the 2020 NFL draft, presumably to the Miami Dolphins.
Fromm's 2019 season, while he did see a drop in completion percentage, still put up pretty solid numbers. The loss of his number one target Lawrence Cager in November of the 2019 season certainly contributed to some of the issues that lead to Fromm's decline. That, coupled with the loss of arguably one of the best collegiate running back duo's in SEC history, Nick Chubb and Sony Michel, definitely put more pressure on the shoulders of the 6'2′ 220 lb Quarterback.
Actually, it reminds me of another quarterback whom saw struggles in his senior year and dropped on many teams draft boards, Miami's own Hall of Fame legend Dan Marino. When Marino was drafted 27th overall in the first round of the 1983 NFL draft to the Dolphins, many teams passed on the University of Pittsburgh QB in the midst of his senior season.
Citing the drop in production and also amidst drug rumors, some say may have actually circulated by the Miami Dolphins themselves in hopes Marino would fall to their spot. If that is true, it is rather genius.
When comparing Dan Marino and Jake Fromm's numbers, Fromm's are actually much better. Marino's career at Pittsburgh (1979-1982) ended with him completing 693 passes of 1204 for 8597 yards, 79 TD's and 69 Int's. With a career completion percentage of 57.6. The interception to TD ratio was very high causing concern for many fans when the Dolphins made him their first round pick. Fromm, (2017-2019) in only 3 seasons, saw him complete 622 of 983 passes for 8236 yards, 78 TD's and only 18 interceptions. Fromm's career completion percentage ended at 63.3%.
The game, with it's rule changes benefiting the passer, is much different now than it was when Marino played so take from the numbers what you will. Fromm has been knocked for decision making and small hands. This seems to coincide with the 2019 season. Fromm's hands at 8 7/8 of the desired 9″ mark the NFL has made standard are 1/8 smaller than Joe Burrow who is the sure lock to go in the number 1 slot to the Cincinnati Bengals. Even with those considered, it's clear Fromm won't turn the ball over and lose games for you.
Whatever has happened, Fromm's stock has fallen significantly over the past year. Projected to go anywhere from the 2nd to the 5th round, Fromm was once considered possibly an answer to the Dolphin's decades long quarterback search. Now that answer seems to be forgotten. Except by one person, Jake Fromm himself.