With hopes to take UM football back to its past routes, coach Manny Diaz's recruiting thrived upon homegrown talent desiring to play at 'The Crib'. In Diaz's words, "they believe in what it means to be a Miami Hurricane."
There was no secret formula to Miami's 2021 class. Diaz and his staff made it a priority to focus on South Florida — Miami-Dade, Broward and Palm Beach County — a rich pipeline that's given the program generous results in the past. And with the NCAA dead period keeping recruits away from out-of-state powerhouses, it made their jobs easier.
That said, the 'Canes concluded its 2021 cycle with 21 signees (18 from Florida), enough to rank them 11th nationally and 2nd in the ACC in the 247Sports Composite. In total, they finished with two five-stars, 11 four-stars and eight three-stars.
Diaz's incoming group has a number of names to look out for, including some that could make an immediate impact as soon as they arrive to Coral Gables. Let's take a closer look.
Quarterback (1)
Jake Garcia — four-star – (Grayson/Loganville, GA), 6-foot-2.5, 195-pounds
UM's push for a QB in the 2021 class took 'till early signing day, when Garcia finally announced his intentions to become a 'Cane. Garcia, a pro-style archetype, had been committed to USC and intended to enroll early before losing interest a week before signing his NLI.
It was a huge victory for Miami, and one that capped what's expected to be a memorable class.
"Great addition to our recruiting class," Diaz said, "we know how important the quarterback position is. This has been a long recruitment with a lot of twists and turns, but we're happy to say that Jake Garcia is a Miami Hurricane."
Garcia, a California native who transferred twice before ultimately playing at Grayson (GA), threw for 1101 yards and 12 touchdowns and ran for two more TDs as a senior, leading his group to a 7A state title. Statistics aside, Diaz sees Garcia's competence to adjust and lead a group on such short notice as a trait that'll make him special.
"Great ability to be able to throw the deep ball, to make every throw, but maybe the most impressive thing that Jake showed this year is [that] it is hard to walk into a powerhouse high school like Grayson and become their quarterback midway through the year," Diaz said. "And he did it, you have to have something special about you, and you've got to have something that the locker room believes in you, and Jake has those."
Running back (1)
Thaddius Franklin Jr. — four-star – (Chaminade-Madonna Prep/Hollywood, FL), 6-foot, 225-pounds
Having watched Franklin played in his senior season opener, he was simply a man amongst boys. His powerful build makes him hard to tackle. His willingness to take contact shake up those against him. He's able to find open holes and use them effectively. Franklin is a powerful addition at RB, and could see some of that early on-field action that Don Chaney Jr. and Jaylan Knighton saw in 2020.
"Just a powerful lower body guy, good feet, good vision," Diaz said, "and really has been mowing up yards at Chaminade over the course of his entire career."
Franklin ran for over 5,000 yards and 50 touchdowns during his high school campaign, including 795 yards this season. A 3-time state champion, Franklin also brings that winning factor to UM.
"The guy's ran for as many yards as somebody can run for, and now it's time to do it for the Miami Hurricanes."
Wide receiver (3)
Romello Brinson — four-star – (Miami Northwestern/Miami, FL), 6-foot-2, 180-pounds
Jacolby George — four-star – (Plantation/Fort Lauderdale, FL), 5-foot-11, 161-pounds
Brashard Smith — four-star – (Miami Palmetto/Miami, FL), 5-foot-8.5, 190-pounds
One of UM's highly-anticipated group coming into campus, WR coach Rob Likens will have a field day developing the triad of wideouts.
Brinson, who I saw play on two different occasions, isn't easy to contain, thanks to his speed, route running and overall ability to be reliable at all times. I was fascinated by him with the Bulls, showing zero fear in making his presence felt from the jump.
"When you want to be in an up-tempo spread offense, you've got to be able to make the big plays down the field, and 'Melo's a guy that can do that," Diaz said.
George, who was just as effective to his team's success – if not more – could be the ideal piece to Likens' up-tempo strategy. He plays as a punt/kick returner as well, which could open the door to some early play time for him. Additionally, he can do a lot with his legs, taking screen passes for scores when need be.
He garnered over 1,030 yards and 12 touchdowns as a junior, and had a plethora of games with multiple touchdowns his senior season.
As for Smith, his blazing 4.4 speed makes him talented in any given position or circumstance. With Palmetto's QB out, Smith stepped up during the playoffs for his team, who reached the 8A state semi-finals.
"There are great players and there are game winners," Diaz said. "Brashard is a game winner."
Smith's acceleration makes him a legitimate threat, and it'll be something that could give him an edge over other freshman receivers entering camp.
Tight end (2)
Elijah Arroyo — four-star – (Independence/Frisco, TX), 6-foot-4, 220-pounds
Kahlil Brantley — three-star – (Miami Northwestern/Miami, FL), 6-foot-2, 205-pounds
Depending on the future of Brevin Jordan – whether he declares for the 2021 NFL Draft or not – will determine how much of an impact both Arroyo and Brantley can potentially make this upcoming season.
Arroyo, one of the three out-of-state signees, totaled 635 receiving yards and 12 TDs as a senior. As for Brantley, his junior season headlined his potential — 28 receptions, 626 yards, eight TDs – to be a threat.
Offensive line (3)
Laurence Seymore — four-star – (Miami Central/Miami, FL), 6-foot-1.5, 213-pounds
Michael McLaughlin — four-star – (Marjory Stoneman Douglas/Pompano Beach, FL), 6-foot-7, 290-pounds
Ryan Rodriguez — three-star – (Miami Columbus/Miami, FL), 6-foot-3, 280-pounds
This lineup couldn't get any better for Diaz (considering how poor his offensive-line has been in recent years). UM prioritized recruiting locally for the O-line, and it could definitely pay-off.
Seymore, a four-year varsity starter, has been committed to Miami for over two and a half years. He's a proven winner at Miami Central and ranks as the fifth-highest prospect in the 2021 class.
For McLaughlin, he revolutionized his body in a period of four years, going from 6-foot-5, 185-pounds as a freshman to 6-foot-8, 290-pounds his senior season. His strength and skill were in full display at Stoneman Douglas through their shortened 2020 season.
"His senior year he made a massive jump," Diaz said of McLaughlin, "as we thought he would because we really thought he had something special in him and cannot wait to get him in our strength and conditioning program. Can't wait to get him around coach [Garin] Justice because he simply has things that you cannot coach. An exciting prospect for our offensive-line.
Rodriguez from Miami Columbus transitioned into playing center this season, playing a vital role in their Tri-County gold division championship run. He's been on the national radar over the past two seasons, commanding an O-line that allowed former Explorer Henry Perrish to rush for over 2,300 yards in 2019.
Defensive tackle (1)
Leonard Taylor — five-star – (Miami Palmetto/Miami, FL), 6-foot-4, 265-pounds
For Miami, it can't get any better than this. Taylor, the No. 1 rated DT in the country, has All-Pro potential written all over him. He's built well, has muscle to work with, can line up at multiple positions and is as explosive as it can get.
I had an opportunity to watch Leonard through his senior season, and there was never a week that his name wouldn't be in the headlines. Taylor finished his final run at Palmetto with 51 tackles, 23 tackles for loss, five sacks and three forced fumbles.
"When you think about all the great Miami Hurricane defenses in the past, you think about the disruptive defensive tackle," Diaz said. "Leonard Taylor has a chance to become another one in the long line of disruptive tackles at the University of Miami."
He's simply a difference-maker, one that UM will greatly appreciate for years to come.
Defensive lineman (1)
Allan Haye — three-star – (Chaminade-Madonna Prep/Hollywood, FL), 6-foot-1, 296-pounds
Haye had been hearing from schools like UCF prior to signing day, but ultimately chose to stay firm with Miami. He headlined Chaminade's front five as a senior, making big-time sacks and pass deflections occasionally.
He's said that coaches Todd Stroud and Jake Swalley see untapped potential in Haye to make an impact at UM. Although he stills needs to add speed to his arsenal, those beliefs could come true.
Defensive end (2)
Jabari Ishmael — four-star – (Miami Columbus/Miami, FL), 6-foot-5, 210-pounds
Thomas Davis — four-star – (Lowndes/Valdosta, GA), 6-foot-0.5, 235-pounds
Ishmael and Davis were two silent summer pick-ups for Diaz's already packed defensive end position. Like DE's Chantz Williams, Quentin Williams and Elijah Roberts did this season, the duo will likely have to wait their turn to be on the field at UM.
Ishmael, who went to the same high school as Roberts, is the son of Miami strength and conditioning coach Victor Ishmael. Diaz and his staff have seen his progression and are excited for what he brings to the program.
Davis was the second out-of-state player to commit to Miami, de-committing from Mississippi State and choosing the 'Canes over FSU and South Carolina. He's got the built of an EDGE and has the potential to be an issue as a pass rusher.
Linebackers (2)
Tyler Johnson — three-star – (Miami Killian/Miami, FL), 6-foot-2, 200-pounds
Deshawn Troutman — three-star – (Edgewater/Orlando, FL), 6-foot-2, 205-pounds
An eagerness to compete is the relative theme for both signees.
Johnson did enough to pave Killian to a 5-2 record, defeating tough local teams like Carol City and Norland. Meanwhile, Troutman was the leader of an 8-3 Edgewater defense that fell in the 7A state championship vs. powerhouse St. Thomas Aquinas.
Troutman's explosiveness excited UM, while Johnson can do the same and add a hard hit along with it. He's the brother of former 'Canes safety Jaquan Johnson, so he's got something to live up to at the collegiate level.
Defensive backs (3)
James Williams — five-star – (American Heritage/Plantation, FL), 6-foot-5, 218-pounds
Kamren Kinchens — four-star – (Miami Northwestern/Miami, FL), 5-foot-11, 201-pounds
Malik Curtis — three-star – (Bishop Verot/Fort Meyers, FL), 5-foot-11, 160-pounds
There's a lot of expectation from this group, thanks to the potential surrounding their trio of signees.
Starting with James Williams, he's got an 'it' factor, unlike any player I've seen. His IQ is off the charts, and his mentality and athleticism make him one of the better prospects in the nation.
"James Williams has been as special of a lent in Dade and Broward County as we've seen over the past few years," Diaz said.
Able to line up as a DE or DB, his talent gives him a serious chance to find playing time as a freshman.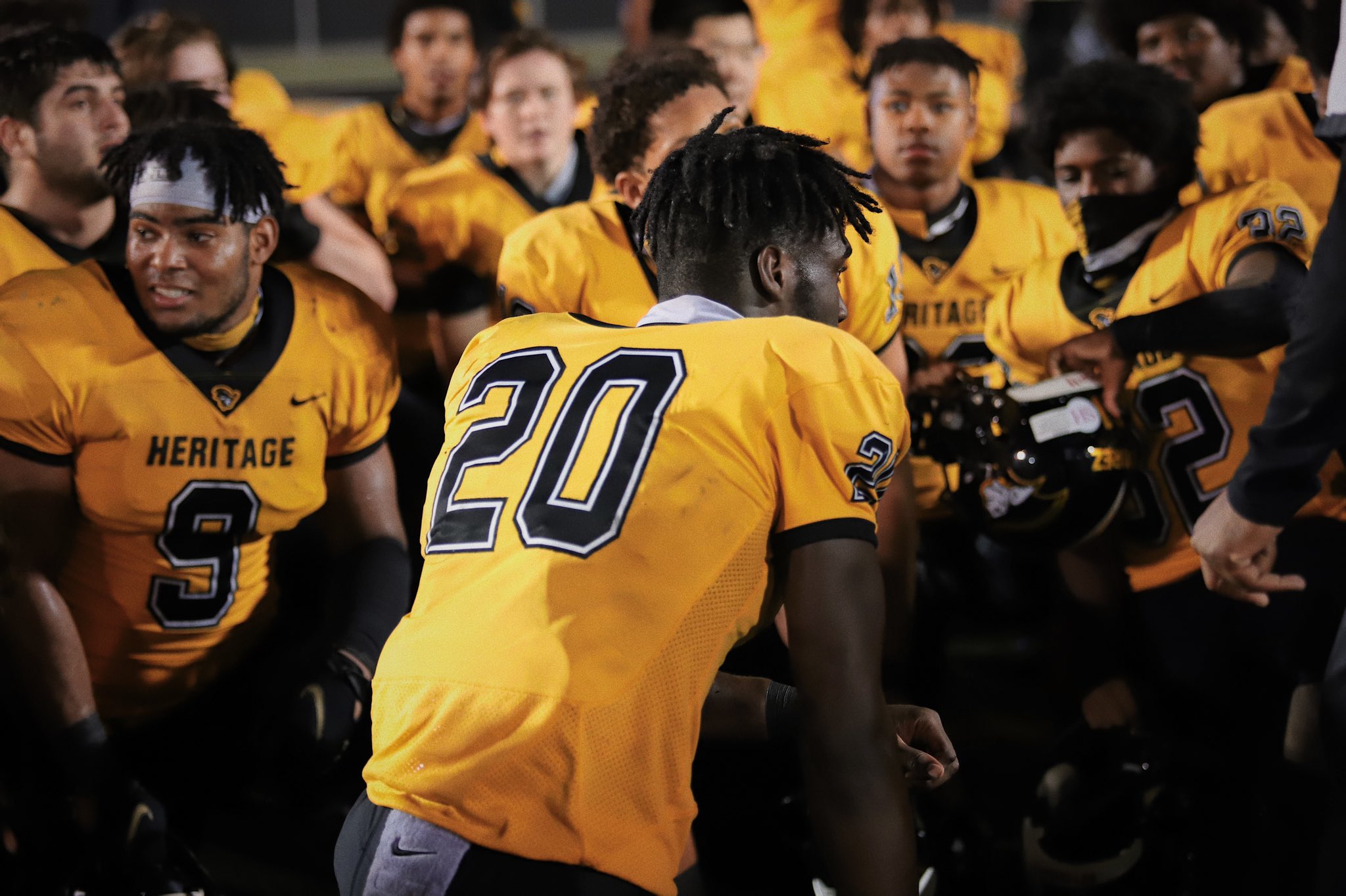 Kamren Kinchens out of Miami Northwestern is another exceptional talent at safety. When I saw him play, nobody dared to throw at his direction, and when they did a price was paid. He understands where everyone has to be and is able to disrupt plays in an instinct.
Along with the two is Malik Curtis, the only cornerback commit in UM's 2021 class. Curtis was more known as a receiver in high school, totaling 47 receptions for 726 yards and eight TDs as a senior. However, he can line up in the secondary as well, which is what Diaz and his staff expect of him.
Striker (1)
Chase Smith — four-star – (Melbourne Senior/Melbourne, FL), 6-foot-3, 190-pounds
The son of former 'Canes tight end Willie Smith, Smith has the capabilities to play at a number of positions, which is why he's ranked as the No. 17 ATH in the nation.
"While I could see him as a safety because he's thin, I think he plays a linebacker (striker) type of position," Florida high school football recruiting analyst Larry Bluestein said. "Very athletic. Runs well and could be a difference-maker.
"I watched his Dad play in high school and college – and the one thing that Willie was is something his son is – very smart. Picks things up quickly. He has tremendous hands and is very fluid."
Kicker (1)
Andres Borregales — three-star – (Champagnat Catholic/Hialeah, FL), 5-foot-11, 140-pounds
The brother of UM kicker Jose Borregales, who received first-team All-America honors as a senior, Andres is next in line to drain kicks for the Hurricanes.
Borregales' consistency and leg talent rank him as the No. 7 kicker by Kohl's Kicking. He ultimately chose Miami over UNC, Louisville and FIU, among others.