For everyone not in the Miami Heat organization, their postseason run came as a shocker. Without a deemed 'superstar', shocking upsets over the Milwaukee Bucks and Boston Celtics were exceptional, and it eclipsed how deep their culture could take them.
But for Jimmy Butler and his group, falling two games within an NBA title was a blow to what they had been fighting for.
That's simply not what the Heat were willing to settle with.
"I told them that I would win them one and I didn't hold up my end of the bargain, so that means I got to do it next year," Butler said following Miami's Game 6 loss to the L.A. Lakers. "I told Coach Pat, I told Coach Spo I'm here to win one. I didn't do my job, so moving forward, I got to hold up my end of the bargain."
That said, President Pat Riley chose not to make an exaggerated push for his referred 'whales' – superstar players – and identified the 2020-21 season as an opportunity to run things back with an almost identical roster.
"We're championship caliber," Butler said. "The group that Coach Pat and [coach Erik Spoelstra and general manager Andy Elisburg] have put together is to get over the hump that we couldn't reach last year. I think everybody's locked in. We're going to continually grow, we're going to continually get better each and every day, and continually learn each other's strengths, but I think our goal is to win it all."
Offseason review
Although there weren't any big-name additions to the team, Miami quietly made some changes that put them in a better position to succeed.
Drafted PF Precious Achiuwa (20th)
Let Jae Crowder (Suns), Derrick Jones Jr. (Blazers), Solomon Hill (Hawks) and Kyle Alexander (overseas) walk
Re-signed PG Goran Dragic to a two-year $37 million deal with a second-year team option
Re-signed C Meyers Leonard to a two-year $20 million deal with a second-year team option
Re-signed PF Udonis Haslem to a one-year minimum deal
Signed SF Moe Harkless to a one-year, $3.6 million deal
Signed SG Avery Bradley to a two-year, $12 million deal with a second-year team option
Signed C Bam Adebayo to a five-year, $163 million extension
Signed SF Max Strus to a two-way contract
Miami's idea as they entered free agency was to keep a plethora of options available. One of those choices: have cap space for a stacked 2021 free agency class, headlined by Giannis Antetokounmpo. However, the Heat decided to settle some necessary business first, and that was to extend All-Star center Bam Adebayo.
And with Antetokounmpo signing his five-year, $228 million supermax contract with Milwaukee, that decision was the right one, considering how making the star player wait for a deal went about for the Heat in recent years – Dwyane Wade (2016).
The Heat also returns their young trio of Tyler Herro, Duncan Robinson and Kendrick Nunn. With Herro under his rookie deal and Robinson and Nunn – both restricted free agents – under a projected $5.7 million cap hold (currently at $2.2 million, expected to rise), Miami has no real financial issues with keeping them under contract. Plus, they've all likely progressed mentally and physically, so their production is bound to take a step in the right direction.
The toughest blow for Miami was obviously the loss of Jae Crowder, who signed a three-year, $30 million deal with Phoenix. Losing a veteran forward with a reliable 3-PT shot and effective defensive presence, it wasn't to let him go, to say the least. However, Crowder, 30, would've been too much of a risk to bring back on a multi-year deal, considering that it breaches Miami's long-term plan. Additionally, the Heat couldn't risk getting trapped in a deal with an older player like they did with Dion Waiters and James Johnson.
What to expect from Erik Spoelstra's group
Spoelstra has shown his willingness to test the waters with rotations time-and-time again. And with depth to choose from, there are two spots in the starting lineup truly up for grabs.
Here are the players with a seemingly 'locked in' spot to be on the court come tip-off: SG Jimmy Butler, SF Duncan Robinson PF/C Bam Adebayo.
At PG, the race will be between Goran Dragic and Herro. Having showcased some electric scoring and playmaking during his notorious bubble run – 16.3 points, 5.0 rebounds, 3.7 assists – it wouldn't be surprising to see Herro, 20, get the starting nod over Dragic, who provided some serious help off the bench last season. That said, Dragic could very well remain the starter like he was during Miami's postseason stretch, where he averaged 18.6 points, 4.7 assists and 4.1 rebounds. It'll truly come down to how ready Miami is to give Herro the keys to playing the PG spot, which considering the praise he's received and confidence displayed on a nightly basis, he's up for it.
Another candidate for the one or two spot will be Kendrick Nunn, who started in 67 games last season. He'll have to overcome his poor performance at the bubble first, however – 7.3 points, 2.2 rebounds, 1.5 assists. An All-Rookie first-team player, Nunn serves as a reliable option on any given night, as his past performances before the NBA's COVID-19 hiatus speak for itself.
With Butler and Robinson locked into their respective position, the next questionable spot falls at power forward/center. With Adebayo filing either spot for Miami, it falls on coach Spoelstra to find someone that blends in with the other four on the court.
This task is a bit tricky; Spoelstra started big-man Meyers Leonard for 49 games last season prior to the league's shutdown but then chose to stick with an Adebayo-led group inside the paint for almost all of the Heat's stay in the bubble. Miami struggled at times with smaller lineups but tended to adjust through the likes of its 2-3 zone whenever it was needed. Still, that ultimately didn't pay off during L.A., who had a field day against Miami in terms of rebounding – Lakers (45.0 RPG), Miami (37.5 RPG) – which led to a number of second-chance points – Anthony Davis, especially.
That creates the question: does Spoelstra stick with a shorter lineup or choose to tighten up a bit more when it comes to size?
If Adebayo – 6-foot-10 – plays the five, free-agency addition Maurice Harkless would be the most qualified to start. His career 32.5% 3-PT shooting makes up for the loss of Crowder, while his 89% efficiency on dunks gives opposing teams reason to gamble on letting him shoot or drive. The 6-foot-9 forward also adds some needed size and comes off of one of the better statistical rebounding seasons of his nine-year career (4.4 RPG).
Now, if Adebayo sticks to his position-less basketball and tends to guard the four on defense, Leonard is the likely suitor to start. At 7-foot-1, his defense and spaced out offense was utilized for lots of Miami in the early part of games. Leonard understands the system and culture of the team as well, which made Riley and his team comfortable enough to re-sign him.
Spoelstra's options don't stop there, with Kelly Olynyk, KZ Okpala, Precious Achiuwa and Chris Silva all healthy and available. Miami knows what they've got in Olynyk – 9.1 points, 5.0 rebounds in the bubble – while the triad of Okpala, Achiuwa and Silva remain noteworthy experiments.
Okpala, Miami's 32nd pick in the 2019 NBA Draft, showed potential in his final preseason game against the Raptors, scoring a team-high 24 points on 9 of 15 shooting en route to a 117-105 win. Okpala touched the court in just five games last season, as the Heat used his rookie campaign as an opportunity to grow as a player and leader at Sioux Falls (G-League) and on the bench alongside veterans such as Udonis Haslem and Andre Iguodala. That said, he's expected to be part of Spoelstra's rotation sometime this season.
"I will say this, KZ is probably the person I'm most excited about this year because of everything he brings to the table," Haslem told the Miami Herald's Anthony Chiang.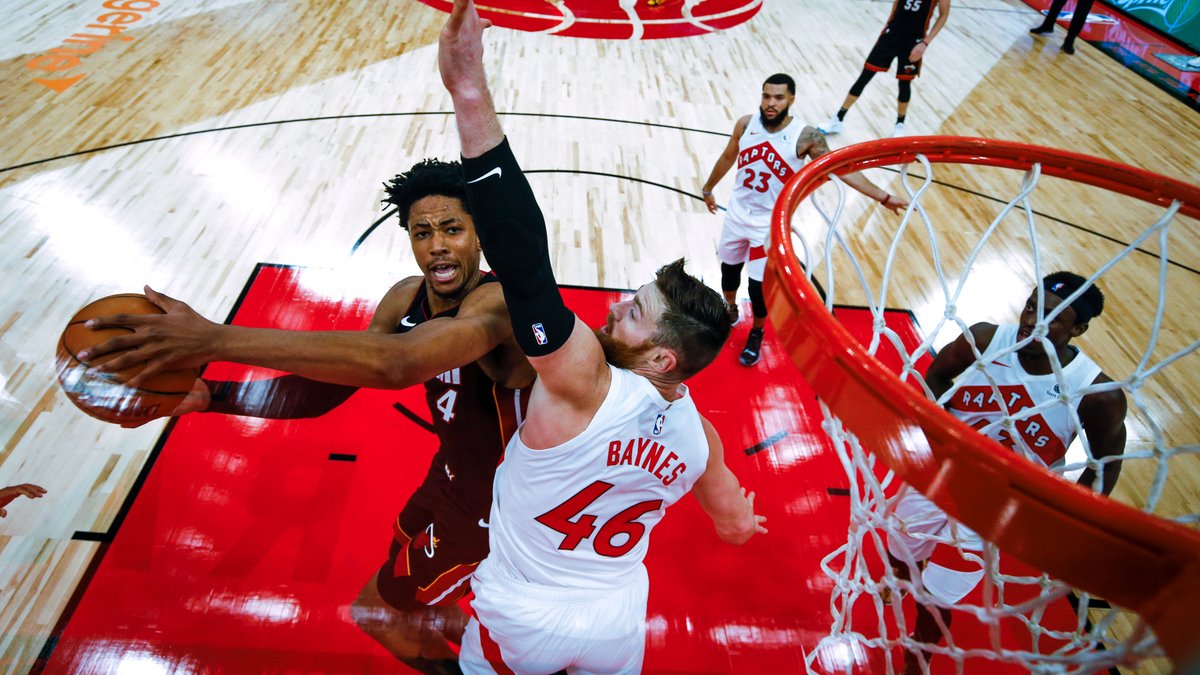 As for Achiuwa, a double-double machine at Memphis (15.8 PTS, 10.8 RPG), it's all about learning how to play at the next level for him. The rookie won't likely serve an amplitude of playing time from the jump, but that'll almost certainly change as the season goes on. After all, they drafted him at No. 20 to assist Adebayo at chasing rebounds and playing the pick and roll, among many other things.
Projected lineups
There's no telling what Spoelstra has in his bag of tricks, but here's what I expect.
1. Dragic-Butler-Robinson-Adebayo-Leonard.
2. Dragic-Butler-Robinson-Harkless-Adebayo.
3. Dragic-Butler-Robinson-Adebayo-Olynyk.
4. Herro-Butler-Robinson-Adebayo-Leonard.
I don't expect anything complex so early on in the season. As confidence with each other continues to grow as the season progresses, Miami will likely implement some of the new additions like Harkless and Avery Bradley to step into the lineup – as they did with Crowder and Iguodala.
Yero's expectations
Since the sign-and-trade was announced, I was sold on the potential Jimmy Butler had to lead this Heat team to the unexpected territory – NBA Finals.
Now as he enters year No. 2 with the Heat, my thoughts haven't shifted a tad bit, although I believe Miami needs to eventually make some change before they get solved. Take a look at Boston and Philadelphia in recent years, keeping almost identical teams and trying to run things back didn't work out.
Now, in a COVID-filled offseason where Miami was handed just 72 days off, I understand why Riley chose to give it another shot. I also respect his veteran additions in Harkless and Bradley, along with Achiuwa and the fact that he didn't settle into a deal with Crowder or Jones Jr.
Come the trade deadline, I do expect Riley to make moves, be big or small, just to give the rest of the league something new to adjust to.
If the Heat can stay healthy and continue buying into the well-respected culture, there's no reason they can't repeat as ECF champs and finish where they left off.
Prediction: 47-25, 2nd in the Eastern Conference.